What We've Been Eating in San Francisco
Until our pull out couch of pure luxury arrived on Saturday morning, our apartment consisted of  little more than an air mattress and a cat tree. The cat seriously had more relative 'furniture' than us. You don't realize the luxury of having a chair or couch, until you're faced with the only thing squishy in your apartment being an air mattress which slowly deflates.  All that said, going on week two of no stuff has meant eating pizza, delicious Mexican and other delights in the city. We've found comfort in food.
This isn't a complete list, but here are some of the glutinous highlights…
This was arguably one of the best 'meals' we've had so far here. We visited this large outdoor farmer's market just north of the city one Sunday and bought an assortment of local organic cheeses, including one from the locally loved Cowgirl Creamery, a sesame bread crown, spicy hummus, Landjäger and clementines. A spread of our purchases, a bottle [or two] of Cupcake Winery's Chianti, good friends, and an incredible rooftop view made for the perfect meal.
We were feeling adventurous the first time we ordered pizza in San Francisco. There are no pizza chains in this city comparable to the likes of Pizza Pizza in Toronto (am I missing something?). There's actually few major food franchises period from what I can tell, which isn't a bad thing. We found Deja Vu Pizza highly-rated on Yelp and ordered a deep dish pizza to share. Not resembling anything like I ate in Chicago, this variation consists of lots of toppings and cheese, and an extra thick, rolled-up, doughy, topping-filled crust. Two slices induces a complete food coma. I wish I had taken a picture, but here's an example of a cheese slice with out the veggie explosion:
One of a couple small Mexican restaurants we've eaten at, this one was a favourite mostly because of the guy cooking up orders. He was charming and gave me extra fresh avocado. I ordered a chicken fajita plate which included fresh sauteed chicken with green peppers, onions and spicy seasoning. It was served on a plate with rice, black beans. a huge portion of chopped lettuce, salsa, tomato, cilantro and big chunks of freshly scooped avocado. For $9, it was incredible. It came with tortillas, but I mixed up all the ingredients to make a massive salad bowl.
This diner promised an american classic vibe, good Kobe burgers and hand cut french fries for $13, and it delivered. I had the basil lemonade spiked with vodka to wash it all down. This place was hipster chic and had the vibe of Toronto's Drake Hotel without the pretentiousness or the prices. Citizen Band shares space with Pinkie's bakery which means fresh burger buns and a small cookie with your bill. It also shares bathrooms with a joining night club, which made for an interesting journey to relief, but let's just chalk that up to charm.
Located across from the building we call home is the Little Griddle, an American eatery that has cooked up breakfast for us a couple times now. I consistently order the morning cliche which lives up to its name. The bacon is thick cut, but crispy, the hash browns are shredded, the pancakes are big and fluffy, and sourdough bread is available. From what I have read online though, this place is known for its burgers and sandwiches. From what we've seen and smelled, I can understand why. It's nice having this close by.
When March 14th rolled around, I awoke to a Facebook feed full of pie in recognition of Pi Day. I figured a much needed venture into the city and high hopes of dessert could only end well. So I grabbed a bus to Mission Pie and bought a slice of pear blueberry a la mode and a tea. The pie burst with full pear quarters and blueberries with a crumbly brown sugar and oats top. The ice cream was made by Strauss Family Creameries, a company name which I have encountered a number of times now and equate with deliciousness. This venture almost ended as well as I'd hoped, but my bus ride home featured a brawl between a rambunctious Kid Rock look-a-like, his wife and a homeless man. I found peace where I bolted to the back of the bus. Just another day in San Francisco. I don't hold this against the pie.
After a glorious day of taking in the sunshine at Dolores Park, a friend led us to a pupuseria. Panchita's Restaurant sells pupusa, a traditional Salvadoran dish made of a thick, handmade corn tortilla that comes filled with your choice of  cheese, spinach, chicken, beef, pork, beans or other delights. Think of it like a grilled cheese or a pizza pocketesque delight sold at $5 for two. A homemade spicy salsa can be found in jugs on the table – this makes the flavour experience complete. It's the ultimate ketchup alternative for those who can't eat a 'grilled cheese' without it (aka me).
I met a friend from Toronto at Anchor Oyster Bar upon her recommendation, and it was an epic seafood indulgence. We arrived just after 7pm on a Thursday evening and there was only one person's name on the outdoor whiteboard wait list ahead of us. By the time we left around 8:45pm, there was a significantly longer wait. We started with a cup of chowder which was followed by a pan roasted 1/2 crab with sliced garlic, sprigs of thyme, parsley, lemon and an incredible amount of butter. It was delicious and great value, considering dinner and a pint rang in at about $24. It's the kind of meal I hope I'll meet again.
Okay, so I know this doesn't quite fit in with the title of this post, but refreshments and food have a special relationship. After that aforementioned butter laden seafood dinner, I found myself playing a dice game at the cleanest dive bar I have ever been too. Buddha Lounge has a unique, comfortable vibe. The bartender keeps the wood bar impeccable, every drink gets a napkin. No one wants sticky dice, and everyone comes to play. You can tell the bartender, who seemed to be a legend among patrons, takes great pride and joy in his job.  I'm sure I will find myself here again (hopefully after a big seafood dinner!).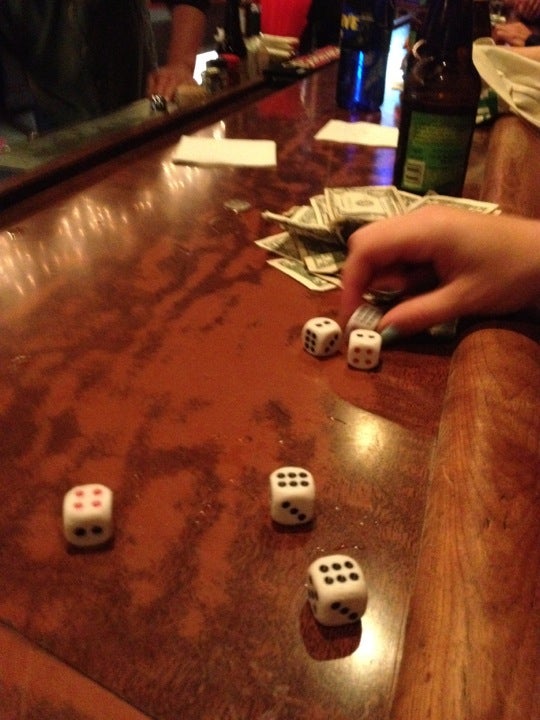 We went to the grocery store yesterday and bought some much needed fruit and vegetables. We also bought a cookie sheet to bake stuff on, so we might be able to squeeze in some meals at home. Luckily this is a walking city and the hills provide a bit of a challenge, so we haven't completely let ourselves go as much as this post might point to that haha. 
Any recommendations for other places to try this week? Follow me on Foursquare to see where I land next.